---
---
Our most popular inflatable paddle board range, just jump on board and start paddling.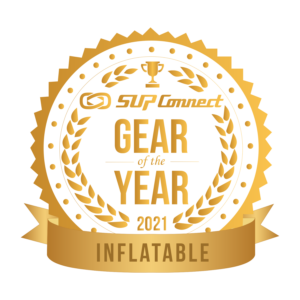 Best Inflatable board of the year awarded by SUPConnect Magazine
Experience the Starboard difference even before entering the water, these lightweight paddle boards feature the trademark Starboard shoulder carry strap which allows you to effortlessly carry it to the water, with both hands free! Before you get on board, you can secure yourself with the included flat lightweight leash, paddle safely and comfortably knowing your board is a life raft. The Bungee straps at the nose are good for storing all sort of dry bags or gear on your next big SUP adventure.
The iGO boards are known for being steady, having good speed and being super easy to turn while stepping back onto the wide tail area. The board's straight outline helps to paddle straight and you can paddle more strokes on one side before you need to swap over, which also helps comfort and even increases the overall speed. This is the perfect paddle board range option for first-time paddlers, families with pets and anyone who wants less fuss and more enjoyable water time anywhere.
WHAT DOES YOUR BEST ALL-ROUND PADDLE BOARD LOOK LIKE?
Every Starboard inflatable paddle board features welded rails.

The Welded Rail Technology creates a complete airtight, mechanically bonded seam without the risk of glue weakening over time. This makes Starboard inflatable paddle boards stronger and longer lasting.
It has a straight outline and a narrow mid-section, so you can keep the paddle closer to the board. This makes you feel more comfortable and stable while you also track better and glide faster.
Its wide tail lets you step back and make fast and fun turns with full control.
Longer boards make you glide better, shorter boards are easier to turn and wider boards are more stable.
2-IN-1 SHOULDER CARRY STRAP & PADDLE HOLDER
Velcro loops to attach your paddle.
Easier to carry as the board simply hangs effortlessly on the shoulder and frees up your hand to multi-task, hold your coffee, or phone.
When not in use, the strap sits flat on the board so it doesn't drag in the water.
The Zen construction only comes with 2 D-rings. The strap needs to be purchased separately aftermarket.
BUNGEE TIE DOWN
A bungee tie down in front of the board, for storing gear and supplies.
The bungee is attached with 4 D-rings which can be used to clip on your bags and gear.
FLAT CARRY HANDLE
Is made discrete for extra comfort when doing Yoga, yet still easy to carry. And it can be comfortably stepped on. (Only on Tikhine and Zen models)
2 TIKHINE ART OPTIONS
ART YOU CAN RIDE
Built in Deluxe Single Chamber construction.
2 special design options available: Tikhine Sun, Tikhine Wave
Designed by world's SUP champion and artist, Sonni Honscheid.
(Available on 11'2"x31+" and 10'8"x33" models)
MATCHING TIKHINE PADDLES
Get the complete Tikhine set with the matching Tikhine paddles.
Coming in the Tiki Tech paddle construction.
RE-COVER BAG
LIGHT, STRONG, LARGE
Is designed to minimize weight, yet maximize comfort and strength.
Roller wheels available on every bag make it more comfortable for a long walk.
Hiking strap is ergonomically curved to ensure good stability on the shoulders.
FREE LIGHTWEIGHT LEASH
At only 70g, the leash is incredibly light.
Soft cushioning means it will flatten when stood on.
Easy to attach to the leash ring without needing any excess rope loop.
WINDSURF OPTION
Removable mask track
Water-releasing rail edge technology
Removable footstraps and centre fin box
Available on 10'8″ x 33″ and 11'2″ x 31+"
12'0″ x 33″ iGO
Length: 12'0" / 365.8 cm
Width: 33" / 83.8 cm
The 12'0" has the fastest glide and is ultra-stable, giving you the most stable platform to paddle on, without compromising speed or stability. If you are learning to paddle or trying to surf small waves, this board will fulfill your expectations, for riders up to 120kg.
Available constructions:
11'2″ x 31+″ iGO
Length: 11'2" / 340.4 cm
Width: 31+" / 78.7+ cm
At 31+" this is the narrowest board in the range, so if you are looking for a speedy all-around board, this is your choice. The + also stands for the square tail shape, which provides abundant stability and easy turning. Ideal for lighter riders up to 100kg.
Available constructions:
Model

11'2" x 31+"
iGO
Rider Weight


45-80 kg (Tikhine)
Length
11'2" / 340.4 cm
Width
31+" / 78.7+ cm
Thickness

ikhine: 4.75" / 12 cm



Tail Width
21" / 53.3 cm
Volume
Tikhine: 274L
Fin Set Up


Tikhine: Thruster
WS: 2 fins
Fins






Tikhine: fixed
WS: Drake shallow 220
Weight
TIKHINE: 10.0 kg (Avg.)
WS-DSC: 11.2 kg (Est.)
WS-ZSC: TBC
---